Los Angeles Superior Court Judge Charlaine Olmedo blasted convicted rapist and one-time actor Danny Masterson as she sentenced him to 30 years behind bars for raping two women who gave powerful victim impact statements in court.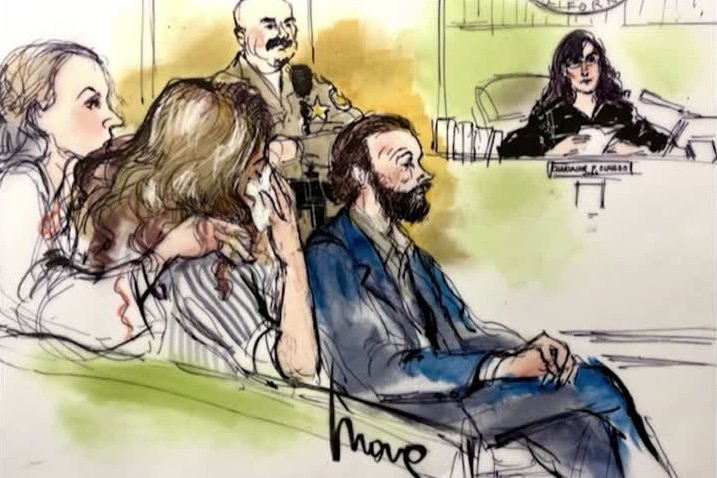 Judge Olmedo told the disgraced That '70s Show star that he had no one to blame but himself for the maximum sentence she was handing him.
Masterson, who is 47 and has a nine-year-old daughter, will not be able to apply for parole until he is 77 years old.
"I know that you're sitting here steadfast in your claims of innocence, and thus no doubt feeling victimized by a justice system that has failed you,"  Judge Olmedo told Masterson before handing down the sentence. "But Mr Masterson, you are not the victim here. Your actions 20 years ago took away another person's voice, and choice. One way or another you will have to come to terms with your prior actions, and their consequences."
Privately document incidents of misconduct, assault, and violence using Voices in Action's independent survivor portal and opt to be alerted if someone else names the same abuser as you here. 
Voices in Action CEO Jessica Barth has been in the courtroom throughout the trial to show solidarity and support for the Jane Does who came forward against Masterson and was there to witness the sentencing. Barth told The Wrap Masterson's maximum 30 year sentence is a victory for survivors everywhere.
"I was present in the courtroom with my organization Voices in Action throughout the trial offering support to the brave women who took the stand," Barth said. "Most predators walk free and most victims will never get to see the inside of a courtroom in order to seek justice. We applaud Deputy DA Reinhold Mueller and Deputy DA Ariel Anson for their belief in this case as well as their thoughtful and effective prosecution. Judge Olmedo was perfectly fair and flawless in her rulings. Two decades is too long to wait for justice. The process is exhausting, humiliating and oftentimes devastating. We are so grateful for the survivors, for their courage and for their voices."
Judge Olmedo continued to scold Masterson, saying that she knew he was sitting in court wondering "how you can be convicted of each charge of a sexual incident occurring 20 years ago" involving "a woman who you believe is disgruntled and has a vendetta against you… But…" she bluntly told him, "You were not convicted on the testimony of one person" even though, she added, the testimony of one person would have been enough."
Judge Olmedo continued, "You were not convicted based on rumors, innuendo, gossip and speculation. You were convicted based on evidence that 12 people in the community found to be credible. … You were convicted because each of the victims reported the rapes to someone shortly after the rapes occurred."
In response to the conviction and sentencing, Barth added, "We hope this conviction sends a message to abusers everywhere that you will be held accountable. We also encourage District Attorney offices everywhere to begin prosecuting more cases of sexual assault. The culture is shifting, victims are breaking their silence and juries are believing them beyond a reasonable doubt. We send strength, healing and joy to Jane Does and witnesses who took the stand in this trial. We are honored to have had the opportunity to support you."
Voices in Action has worked since 2018 to support victims and survivors in the entertainment industry with a multitude of services. The Voices in Action independent documenting system helps victims of sexual assault, abuse, violence, and misconduct detail and timestamp events of abuse and has the ability to optionally track serial perpetrators, alerting survivors if their abuser has been accused by another person and helping to privately connect them through national and independent legal teams that specialize in victims rights. Documenting abuse helps victims collect evidence for themselves with immutable timestamps that help bypass the problematic question all survivors face when coming forward about abuse after the fact: "why didn't you report sooner?"
If you'd like to document and timestamp incidents of abuse and opt to be alerted if someone names your abuser, or if you know anyone who would benefit from the service, here's where to get started.
This service is free and no information is ever shared or sold.